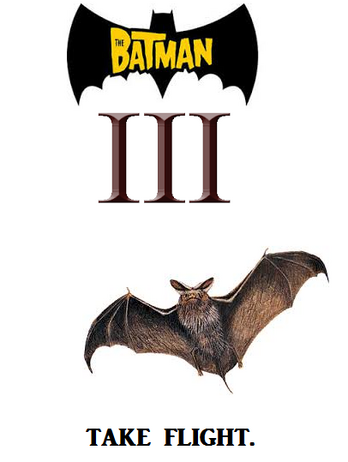 The Batman III (also known as The Batman 3) is an American superhero action film. It is the third film in The Batman Trilogy. It is written by ElectricMayhem.
Batman must make a comeback when a chemist named Kirk Langstrom transforms himself into a hybrid monster, and wreaks havoc through the town. Meanwhile, a schizophrenic ventriloquist escapes from Arkham Asylum, and quickly takes over Gotham's underworld.
Characters
Edit
Bruce Wayne/Batman
Vicki Vale
Kirk Langstrom/Man-Bat
Arnold Wesker/The Ventriloquist
Scarface the Dummy
Harvey Dent
Gillian B. Loeb
James Gordon
Renee Montoya
Harvey Bullock
Alfred Pennyworth
Hugo Strange
Harleen Quinzel
Carrie Kelly
Ad blocker interference detected!
Wikia is a free-to-use site that makes money from advertising. We have a modified experience for viewers using ad blockers

Wikia is not accessible if you've made further modifications. Remove the custom ad blocker rule(s) and the page will load as expected.