The DC Cinematic Universe is a superhero franchise set in a fictional shared universe, based on characters in publications by DC Comics. The shared universe, much like the DC Universe in comic books, was established by crossing over common plot and cast elements.
Phase One: Origin of Justice
Edit
01. Superman: UnboundEdit
Movie Title: Superman: Unbound
Release Date: March 2012
Plot: Clark Kent and Kara Zor-El, two of the last of an extinguished race disguised as an unremarkable human, are forced to reveal their identities as Superman and Supergirl when Earth is invaded by the cybernetic Brainiac, who boasts that he possesses "the knowledge and strength of 10,000 worlds."
Main Cast:

Jake Gyllenhaal as Superman / Clark Kent / Kal-El
Saiorse Ronan as Supergirl / Kara Zor-El
Tao Okamoto as Lois Lane
Michael Shannon as Brainiac
Joaquin Phoenix as Alexander Luthor, Jr.
02. Wonder Woman: Gods and AmazonsEdit
Movie Title: Wonder Woman: Gods and Amazons
Release Date: November 2012
Plot: The Amazonian princess-warrior Diana Prince left her lush tropical island to dwell in our urban cityscapes of glass and steel. Tutored in the ways of the Greek warriors, and outfitted with incredible gifts the Goddess bestowed upon her people, she becomes Paradise Island's emissary to the World of Men. In her way, the God of War and the world's most powerful sorceress.
Main Cast: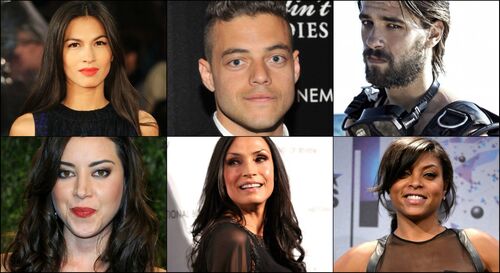 Elodie Yung as Wonder Woman / Diana Prince
Rami Malek as Lt. Steve Trevor
Apostolis Totsikas as Ares
Aubrey Plaza as Circe
Famke Janssen as Queen Hippolyta
Taraji P. Henson as Tenent Philippus
Ad blocker interference detected!
Wikia is a free-to-use site that makes money from advertising. We have a modified experience for viewers using ad blockers

Wikia is not accessible if you've made further modifications. Remove the custom ad blocker rule(s) and the page will load as expected.