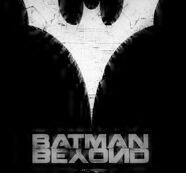 Batman Beyond is a 2019 film based on the Batman Beyond television series. It is the first entry of the Batman Beyond film trilogy. It will be directed by Matthew Vaughn. A TalixArts production. The film stars Jaden Smith, Mel Gibson, Bryan Cranston, Zoë Kravitz, John Hamm, Laurence Fishbourne, and Helen Mirren. It is set for a July 14, 2019 release.
Set in the near future in the corrupt world of New Gotham, a young and naive criminal, Terry McGinnis has just got arrested for theft. However, his sporadic life will soon catch up to him when his life is turned upside down. Framed for murder, Terry tries to run. However, he gets unexpected help from the elderly billionaire Bruce Wayne. Bruce trains Terry in the art of man-hunt and become his rightful successor to become the new Batman. Determined to seek answers and reclaim his name, Terry suits up as the new Dark Knight, but his past will be hard to stop when it comes back to haunt him.
Plot summary
Edit
Coming soon
Henry Jackman will be the composer for the music. Some of the scores will have similarties to those in The Dark Knight and The Dark Knight Rises. However, most of the music will be electronic and fast paced.
Critical reception
Edit
Most of the reception are positive with many critics calling a Nolan-like film. The current Rotten Tomatoes score is above 89%.
The movie will spawn a sequel, Batman Beyond - Part II. Vaughn is expected to direct again with Smith and Gibson set to return.