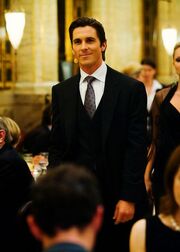 Batman is the alias of American billionaire Bruce Wayne. He was trained by the League of Shadows. He unknowingly impregnated his teacher's daughter, Talia, and then left to start his one-man war on crime in Gotham. He dated a Hollywood actress, Julie Madison , during his early years as Batman. She eventually found out about Bruce's double life and she couldn't deal with the fact that he was indirectly responsible for her father's death. She found out that she was pregnant with Bruce's child and married Warren McGinnis to hide it.
After the alien invasion, Bruce understood Superman's power and went to Metropolis to study him. When Bruce was heading to his Metropolis home, he was asked some questions by reporter Cat Grant , but ended up sleeping with her instead. 
Ad blocker interference detected!
Wikia is a free-to-use site that makes money from advertising. We have a modified experience for viewers using ad blockers

Wikia is not accessible if you've made further modifications. Remove the custom ad blocker rule(s) and the page will load as expected.